Berries & Grapes

---
Berries

Berries and Grapes are here!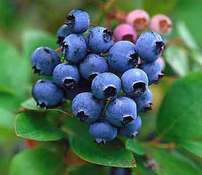 Blueberries:
Duke:
MATURE SIZE: 4' x 6'
USDA HARDINESS: Zone 4 - 8
GROWS BEST IN: Full sun to part shade.

Duke blueberry bush is s wonderful, east to grow early ripening northern blueberry variety. Duke blueberry is a heavy, consistent producer with an attractive, firm, light blue high quality berry. Duke blooms late but ripens early, which protects the blossoms from spring frosts. Branches may droop to the ground when laden with fruit, prompting many gardeners to use a simple trellis as support. Lovely orange and burnt-yellow fall color. When planting blueberry bushes always calculate at least 2 bushes per each family member.
Jersey:
MATURE SIZE: 5' x 5'
USDA HARDINESS: Zone 4 - 8
GROWS BEST IN: Full sun to part shade.
Jersey blueberry bush is an old-time favorite blueberry variety that still graces many mature gardens across the United States. Jersey blueberry is a favorite for home gardeners wanting an easy to grow bush that produces reliably heavy late season crops year after year. This bush tolerates a wide range of soil types, and the small to medium sized, sweet tasting fruit is a favorite for baking.
---
---
Raspberries:

Caroline:
Caroline raspberries are an ever-bearing variety producing tasty, medium-sized, firm red berries from mid-summer into fall. They are disease-resistant, highly productive and easy-to-grow in zones 4 through 8. The plants will bear fruit the first year. A summer crop begins to ripen in late June. The fall crop is highly productive and ripens from August until frost.
---
---
Blackberries: Thornless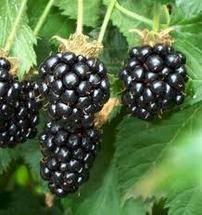 Triple Crown:
Vigorous plants consistently produce plentiful yields of large, tasty fruit. Berries are nearly as large as Apache. Wonderfully complex, sweet flavor without the acidic tang of some varieties. Dense foliage cover reduces problems with sun scald. Ripens late July on thornless, semi-erect 12- to 15-ft. canes.

Boysen: Developed in California. Very large, sweet, juicy, full-bodied flavor. Good for fresh eating, freezing, jams, preserves, pastries, juice, syrup, and wine. To soft for shipping. Ripens during May and June. Thornless forms of all blackberries should not be cultivated deeply as damaged feeder roots will send up an occasional sticky sucker that has to be removed. Requires winter protection below 0 degrees F., hardy in zones 5-9.


---
---
Strawberries: Everbearing

Fort Laramie:
Super-sturdy strain thrives in all parts of the country; withstands the worst winters without mulch. Produces a fair amount of runners and huge crops of bright red berries bursting with juice. Honey-sweet flavor is excellent fresh and for processing. Self-pollinating. Zones 3-7. Everbearing. Firm, sweet flesh. Exceptionally aromatic. Pollinates well in cool or warm temperatures. Thrives in all parts of the country. Mulch after the ground freezes in the fall. Produces numerous runners.



---
---
Gooseberry:

Jostaberry - A cross between a black currant and a gooseberry. It has the vigorous growth habit and the disease resistance of the black currant. Flowers are hermaphrodite and the plant is self-fertile following insect pollination. Propagation is usually by cuttings, rather than by seeds. The leaves are gooseberry like and the fruit, until ripe, looks like a gooseberry. In late June the fruit ripens and the elongated fruit turns black. The flavor is sweet like a gooseberry with a hint of black currant. Resistant to both powdery mildew and white pine blister rust. It should be pruned like a gooseberry. Hardy to -35 F.
---
---
Grapes

Seeded & Seedless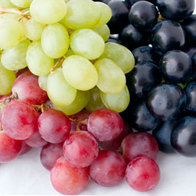 Glenora: (Seedless)
A mouthwatering medium-size grape with full-bodied flavor and rich aroma. Fine for wine and superb for snacking. Blue-black fruit makes a luscious jelly. Produces 25-35 clusters of fruit per vine. Medium to large, loose, heavy, well-filled clusters. Sweet, spicy, fine textured, highly flavored fruit with a thin, smooth skin. Fruit keeps well on the vine. Mildew resistant. Protect in exposed sites in Zone 4. Very vigorous vines with medium productivity. American grape. Hardy to -10 degrees F. Train on arbor or trellis. Developed in the North. Best for northern climates for seedless grapes. Tends to produce some type of seed if grown in climates above zone 6.

Canadice Red: (Seedless)
Introduced from the Geneva Station in 1977. American; Hardy Seedless. Long, large clusters of medium size firm fruit. Excellent sweet and spicy, vinous flavor. Excellent quality. Good as seedless red table grape, jelly, juice, and wine. Vigorous and productive vines. Some resistance to Black Rot and somewhat susceptible to mildews. Ripens from mid August through September. To allow good wood maturity, prune excessively. Maximum hardiness to -15 degrees F. Zone 5-8

Niagra White: (Seeded)
Introduced in 1882. Also known as White Concord. White grape that has the same hardiness and productivity of Concord but ripens earlier. Large, tight, amber, slipskin grape. Sweet and juicy with a strong foxy flavor. Attractive, productive, and vigorous vine, excellent for arbors. Top eating variety. Also makes a distinctive white wine. Ripens in late September. Zones 5-7.
---
---